Kapuso actress Marian Rivera can attest that marriage and motherhood empowers a woman. She said she has grown more patient, and more tolerant of life's unavoidable circumstances. But when it comes to her baby daughter Zia, she's still as fierce as a momma lion protecting her cub.
Recently, some netizens discussed her "inappropriateness" in public. They were pertaining to a snapped photo of Marian (discreetly) breastfeeding her little darling Zia in Paris.
"When my daughter is hungry, it doesn't matter where I am, I will feed her—pakisulat 'yan (please write that down)—I don't care kung sosyalan 'yan o ano pa mang okasyon," she shared in an interview.

"You can't bash me for doing my obligation as a mother," she reiterated. "Alangan namang sabihin ko, 'Wait lang, anak, naka-gown ako, mamaya na lang after three hours. If she's hungry, I will find a private corner, cover myself up (with a nursing shawl) at magpapa-dede ako!"

"Hindi naman ako mag-eeskandalo … na ibubuyangyang ko ang dede ko habang nagpapasuso sa anak ko (I won't create a scandal by letting my breasts hang out while feeding my kid). I know how to protect myself," she continued.

"I'm a proud breast-feeding advocate—hindi ko ipe-pending ang nutrition ng anak ko, just because she still can't appreciate foie gras. You're being narrow-minded when you judge mothers who breast-feed in public. Are you going to call me malaswa (obscene) because I covered myself up?"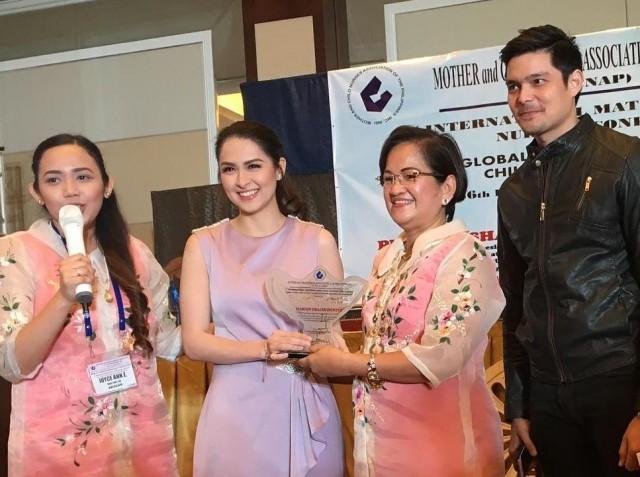 Marian is known to be a very outspoken woman. It is one her best traits, authenticity. And now that issues are being thrown at her that involves her daughter, you can bet that she's a gazillion times fiercer and ready to pounce at anyone who attacks her family.
There's nothing wrong with speaking the truth," she stressed in Filipino. "People think that being real is a liability, because that's how they get judged by others. But, you can't please everybody. If you're in my line of work, you have no choice but to accept that it's part of the job—trabaho, eh. So, if you bash me for the kind of work I put in, OK, fine. But, you also have to know where to draw the line.

"I think that's where teacher-by-day, superhero-by-night Minerva Henerala, my character in the new fantasy series 'Super Ma'am,' gets her spunk. When people ask me if I've become a more positive person after I got married, my answer is, 'Dapat!' If my husband is known for his kindness, that should reflect on me, too. Dong has made me realize that being a good person is not something you should apologize for," she said with full conviction.
When asked how she felt during the filming of her new action fanta-series "Super Ma'am", she happily shared
"Taping 'Super Ma'am' has been a breeze, but it's made difficult by the fact that I can't be with Zia when I'm at work. But, I enjoy portraying a teacher, which was one of my dreams after I finished my degree in Psychology."
A pressing question that's been asked to her countless times recently is if she and Dingdong plan on making baby number two anytime soon.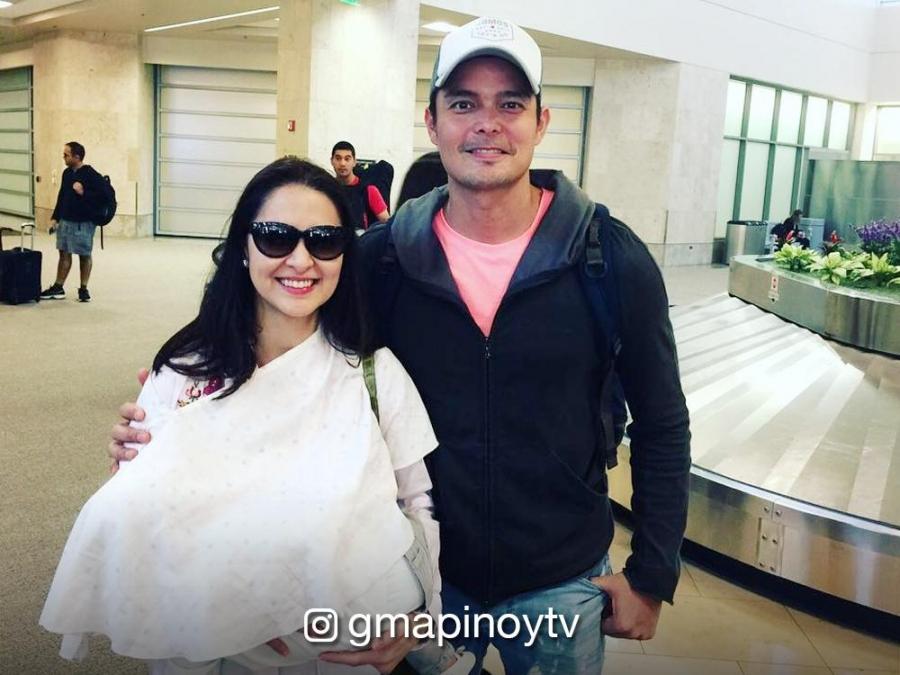 "My daughter will turn 2 in November—and she loves being around other children. Given a chance, Dingdong and I would like to have three or four more kids," Marian gleefully shared. "But, I need to work for now. I've missed acting in a teleserye because, while it's true that I host the variety program 'Sunday PinaSaya' and the drama anthology 'Tadhana,' it's been three years since my last soap (2014's 'Carmela,' with Alden Richards). You miss the camaraderie that develops on the set.

"That's why I immensely enjoyed our recent trip to Paris, to attend the wedding of Hayden Kho and Vicki Belo. Dong, Baby Zia and I were there for only four days, but those were enough time to bond and take a break from taping our respective shows, 'Super Ma'am' and 'Alyas Robin Hood 2.'"
From her notable roles, MariMar, Darna, Amaya etc. Which is her favorite? And does she have any advice to give Liza Soberano, the next actress to don the Darna costumer?
"'MariMar' will always have a special place in my heart, because that was my big break. As for Liza, I don't think I'm in any position to dispense career advice. But, it's hard to play Darna if you have a peg or choose an actress to emulate. It's important for her to evolve in the character and make it her own. It's a difficult task. I had to be physically fit. I made sure my stomach was flat—hindi ko talaga hinayaang may taba ako sa tyan."
Until now, Marian seems to be super fit given her Super Ma'am costume with a crop top. There is absolutely no trace of her giving birth whatsoever.
But Zia is already growing up. Who does she look like?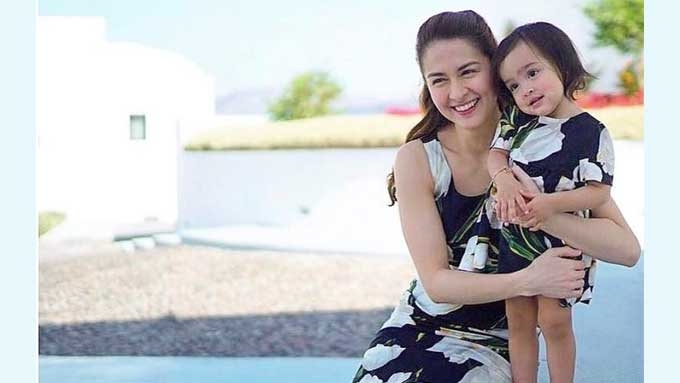 "People say she looks like Dong. But, when we were in Paris, only one person said that she looked like her dad, especially when she smiled. If people think she's beautiful, eh 'di ako talaga ang kamukha n'ya!" the actress laughingly said.

"She's friendly like her father. But, she's also matapang (brave) like me—because, one time, when her pediatrician injected her with something, she didn't cry! She just said, 'Aww!' Also, she isn't even 2 yet, but she already knows the alphabet, numbers, colors and different animal sounds. It also helps that Dong and I are hands-on parents, because we can guide her properly and really see her grow!"
Marian is truly an amazing mom. We are sure that Zia will grow up to be a wonderful woman.
Source: Inquirer.net